New Chocolate Chip Cookie Jewelry

Originally uploaded by
tinyhandsonlin
I made some new chocolate chip cookie jewelry because I couldn't stand the look of the old ones. It's almost embarrassing but every artist (not entirely claiming that I am one, I'm not close haha!) has to start out somewhere :) We always keep improving, and as long as we head in the right direction, it'll be fine!

I love the new cookies' gradient and texture. And the chocolate chunks make them look so tasty! The photo doesn't do it any justice :P

I've always been working at other products as well. I took away all of the gourmet cupcakes and the chocolate, vanila and strawberry ones with the cupcake casings because I've grown more and more unhappy with them. They lack something I can't put my finger on!

So while I was experimenting, I had the most pleasant surprise. Here's a photo of what I managed to achieve and by golly they look super realistic and so adorable!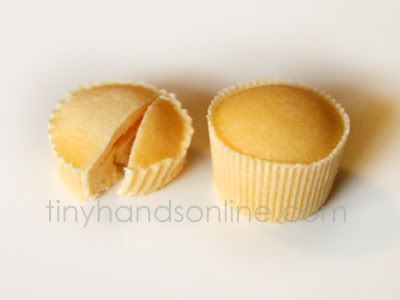 I've yet to figure out how I want to decorate them. Some visual inspiration of Martha Stewart cupcakes would be great right now :P
They look like real muffins but wait till you see how small they are!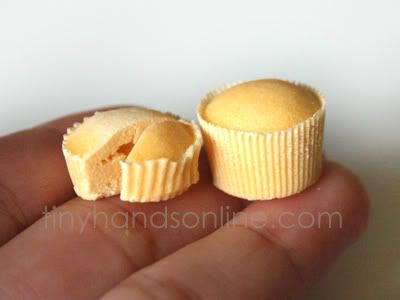 Okay so they're not as tiny as 1:12 miniature items but my goal isn't to achieve that. I like to create something that's large enough to be seen by people when someone wears my jewelry, but small enough to be considered smaller than the real thing.
Anyway, I've also been working on a consignment order of cupcakes! Shortcakes and pancakes will come later after I write this blog post :)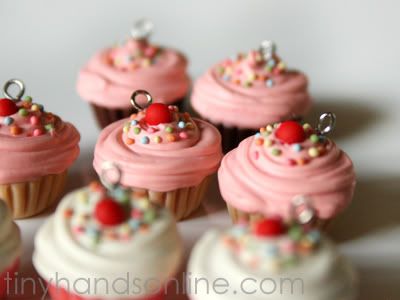 This is what happens when you don't gloss what should be glossed. Gloss makes polymer clay food stuff look scrumptious and delectable. Can't live without it! Of course, not all food items should be glossed. I made some chocolate chip cookies and glossed those and it was a disaster.
I've also tried working with resin because I was always curious with how to create a completely transparent medium. I haven't been very successful so far due to the numerous nitpicky steps that I need to follow. It's a tricky process!
Oh and now some of the more exciting parts! I'll be getting some of my jewelry to a consignment store in Singapore which I mentioned somewhere above. Also, I got another store in New York interested in my items. I spent all day of yesterday creating a wholesale line sheet for them to look at. What's more, I contacted a photographer in California whose portfolio I absolutely adore. I've just sent him a ton of my jewelry so he can photograph them on this beautiful, and I mean beautiful, woman. She's a perfect fit for my jewelry and they're going along with a candylicious theme. I'm so excited for the outcome!
Phew, now that that's all out there, I need to get working some more :) This week's flying by so fast :O