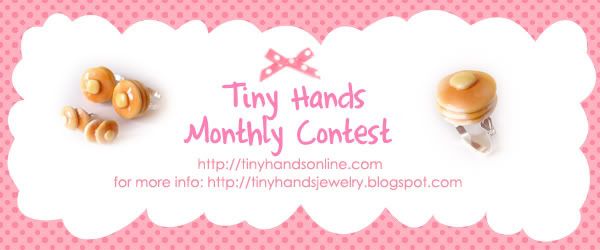 I decided the points system I was using didn't work very well. It's hard work on both our parts, lol! So I thought, hey I want to make this fun, easy and convenient as well as rewarding for you.
I'm going to go with the simple random giveaway that other people usually host on their blogs.
I will be using a
random generator
to pick the winner. It should be relatively painless ;)
Here's how you can enter:
Visit Tiny Hands and comment here with your favorite item
For 1 additional entry: be a Tiny Hands Facebook fan!
For another 1 additional entry: be this blog's follower (click the "Follow Blog" button on the top left column)
For every additional entry, please write a new comment to let me know what you've done. This way, the random generator will pick up your entries and your chances to win are increased! Does that sound fab or what? :D
This giveaway is open to anyone and everyone (yip yip hurray!) and will end at 11.59pm CDT, April 30, 2010.